Mt Sabalan hiking guide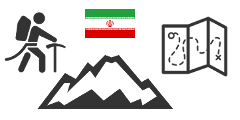 Mt Sabalan (Farsi.: سبلان, Azerb.: Savalan, ساوالان) is an inactive stratovolcano in Ardabil province of northwestern Iran. At 4,811 metres in elevation, it is the third highest mountain in Iran. With a stunning crater lake formed at its summit, Mt Sabalan is often claimed to be the most beautiful peak in the whole country.
How about climbing Mt Sabalan?
There were two of us, Maciek and Judyta, tourists from Poland. In August 2016 we decided to visit Iran and one of our intentions was to do some trekking. Encouraged by Iranian friends we picked Mt Sabalan and it turned out to be a perfect choice. Comparing to Mt Damavand, which is the most popular destination for overseas climbers, it is not that demanding and the business oriented on foreign visitors is barely noticeable here. It is enough to mention that among all the climbers we met when ascending Mt Sabalan we seemed to be the only foreigners.
The most popular route which tourists take is from Shabil hot springs via East Shelter, we also decided to follow that path. It is completely feasible to do it without a guide, however when preparing for trekking very little information about Mt Sabalan could have been found (at least in any other language than Farsi). That is how an idea of writing this climbing guide arose, I describe our experience in hope that it may be helpful for future Sabalan conquerors.
Getting to Shabil
Shabil (elevation approx. 2,700m) is a hot spring resort where the most popular route to Mt Sabalan peak begins. The best option to get to Shabil is to take a taxi from Ardabil. In August 2016 such a ride took about 1.5h and cost 600,000 IRR [$17] for a car.
If you are not acclimatised to high altitude, it is reasonable to stay overnight in Shabil. You can set a tent within the resort premises which are usually full of Iranian tourists who enjoy their holiday there and, as it often goes in Iran, are eager to meet strangers from overseas. As it is quite noisy and crowded place, you may be tempted to set a tent outside the fence. If you decide to do so, beware of wild animals. Some Iranians warned us about wolves and bears, we didn't have an opportunity to meet any, however there were stray dogs which during the night became so annoying that we eventually moved our tent to the resort premises.
To the top
From Shabil to East Shelter
There are basically two options to cover this route:
Take a 4wd car (160,000 IRR [$4.5] for a seat), frequent in high season
Go on foot
If you choose walking (as we did) the leisurely hike will let you enjoy beautiful scenery of Sabalan surroundings and with a bit of luck you will see nomad camps. A walk from Shabil to East Shelter takes about 4-5 hours (8km, 1,100m up). First, you should go along the cable car pylons (see map below), later on use compass or GPS to find the road which 4wd cars take. This dirt path takes you to directly the East Shelter of Sabalan (elevation approx. 3,670m).
The shelter offers several places to stay, there is also much room to set a tent. Here, again, some locals warned us of wild animals so it seems to be better not to stay too far from the buildings. On the other hand, there is a power generator in East Shelter which after dark (until 11pm and after 3am) produces terrifying noise, so staying too close to the "main square" is also not the best option. In high season shelter is often booked up (especially on Fridays, i.e. Iranian weekends), so if you don't plan to stay in a tent it is better to book a place ahead. It can be arranged by making a call before arrival, you can try to use one of the contacts listed below (English may not be spoken):
Ardabil Mountaineering And Sport Climbing Commision, www.ardabilmount.com, Takhti sport complex, Helal Ahmar St., Ardabil, Tel/fax: +98-45-33237661
Hassan Tamjid, +98-914-8209923
Sharyar Adnan, +98-914-1537035
Mehdi Akhavi, +98-914-7000604, mehdi.akhavi63 (at) gmail.com
From East Shelter to the summit and back
To reach the peak and safely get back before the evening (when it is usually more cloudy) you should get up early in the morning. At about 3am hustle and bustle begins and first climbers set off to the top as early as 4am. These are the early birds, the majority leave camp between 5am and 6am. The path is not always obvious, but in a good weather (no fog) there is no problem with finding the right way. It should take about 5-6 hours to the top (1,150 m up) and 3-4 hours back.
We set off just before the dawn, at 6am, we reached the summit about midday and at 4pm we were back in East Shelter. Then we took a 4wd car to Shabil where some friendly locals offered to give us a ride to Ardabil. Late in the evening, tired but happy, we checked in to the Negin hotel in Ardabil.
Map
Below there is a map which shows our GPS track from Shabil to the top (here you can find a GPX file).
Equipment, provisioning
Mountain gear
Take some warm clothes and a good sleeping bag. During our hike the temperature at night was about 10°C in Shabil and about 3°C near East Shelter. Although the mountain is relatively high, in mid-August there was virtually no snow. In high season standard trekking equipment should suffice, crampons and an ice axe are not needed. Tent is a must unless you plan to skip Shabil and to book a place in East Shelter. Don't forget sunglasses and a sun protector.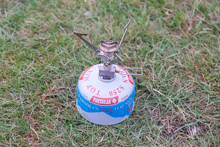 Be sure that some friendly Iranians will invite you to have a tea together or they may even share a meal with you, but don't yield to temptation to leave your own cooking gear home :) If you travel by plane you most likely wouldn't be allowed to take a gas cartridge aboard, but it can be easily purchased in Tehran. We used the MSR Microrocket stove and there was no problem with finding a proper gas cartridge (EN417 compliant). Outdoor shops in Tehran are located mostly on Vali Asr Avenue, near Moniriyeh Square.
Maps
There was no problem with mountain equipment in Iran, but it turned out to be extremely hard to find a map of Sabalan. We tried in a few places in Tehran and in Ardabil but without success. Moreover, it was hard to resist the impression that if any map of Sabalan ever existed it would be in Farsi. Some online maps (OSM/Google in combination with GPS) may do the job as there is a path marked on these maps and it seems to be exactly the route you should take when ascending/descending the peak.
Food
From Ardabil bring honey and black halwa (local specialities), dried fruit, nuts, bread and cheese (but remember that in high mountains it is better to consume high carbohydrate food). You can buy bottled water and some snacks in East Shelter. In Shabil there is even a small shop so you can find all the basic products there. We took freeze-dried food from Poland, but perhaps you can find it in Iran too.
Acclimatisation to high altitude
At an altitude up to 4,800m there is minor risk of developing AMS (Acute Mountain Sickness) in life-threatening form but you may experience some unpleasant ailments such us headache, insomnia, diarrhoea, nausea or vomiting. Susceptibility to high altitude sickness is an individual issue, however there are some general rules that you should stick to in order to avoid troubles:
Don't ascend too fast. A typical approach is to spend one or two nights in Tehran or Ardabil (elevation approx. 1,500-1,800m), then go to Shabil (approx. 2,700m) and stay there overnight, then to East Shelter (approx. 3,670m) and the next day to the top. Many Iranians don't make a stopover in Shabil and go directly to East Shelter. That is because they mostly live in an upland area (1,200-1,800m) and they more easily get accustomed to high altitude.
Have a proper diet and drink a lot of water. In high mountains you should avoid eating fats, take carbohydrate rich food (at least 65%) instead.
Acknowledgements
Many thanks to Iranian friends: Hamid, Salimeh, Saba, Sima and Afshin. Thank you guys for inspiring us and for your priceless hints about climbing in Iran.
Remarks
This article is current as of August 2016.
Comments
Any comments? Remarks? Feel free to write to me: Maciej Andziński <m.andzinski (at) gmail.com> or leave a comment below